Products & Services
Other Services
Application Notes
Site Map
Overrun Production Optics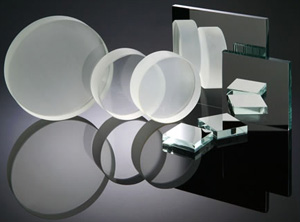 Overrun optics can provide a good opportunity to purchase quality optics for prototyping and custom optical needs at a discount. Advanced Optics frequently updates our inventory of precision, custom and commercial grade optics. These optical mirrors, windows, optical flats and custom optics are available for immediate shipment. Should your project have flexibility, our over-run optics can provide an economical alternative to purchasing new. Many can be modified, either re-coated to meet your requirements or reshaped, providing savings and fast turnaround.
In addition to our in-stock and overrun optical products, Advanced Optics provides custom fabrication and free engineering services. Our capabilities allow us to manufacture custom sizes, shapes, drill holes as well as provide bevels and concave and convex substrates.
Contact us at (262) 548-1155 or email. Our engineers are waiting to serve you.