Products & Services
Other Services
Application Notes
Site Map
Optical Windows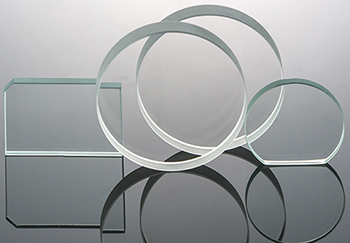 Optical windows are used to separate two different environments while still allowing light to pass through. For over 45 years, Advanced Optics has taken pride in manufacturing high quality, low cost optical windows. We have the expertise to help you with prototype work and the resources to fulfill production requirements.
View our available in-stock optical windows:
Our capabilities allow us to provide:
Optical windows made of low expansion Borofloaot®, fused silica, B270 and BK7
Parallelism < 2 arc seconds
Surface quality to 10/5
Uncoated optical windows
MgF2 and multilayer anti-reflective coatings as well as custom coatings tailored to meet individual application requirements
A broad range of in-stock optical windows as well as the capability to manufacture custom optical windows and prototypes
Window Applications:
Advanced Optics optical windows are excellent performers when it comes to aerospace, military and commercial avionics, scientific and medical instrumentation, academics and research, and industrial applications. Whether you require custom optical fabrication or one of our many off-the-shelf optical windows, let us provide you with a prompt competitive quotation today!
Contact us at (262) 548-1155 or email. Our engineers are waiting to serve you.